Description
ByteFum to Meet Your Business's Needs - Nishan Vaghani
A vision to offer accurate and perfect quality solutions to the business world encouraged Nishan Vaghani - the CEO and Founder, to lead the firm foundation of ByteFum. Let's get on to its success story in the words of Mr. Vaghani in an interview with GoodFirms.
As a custom IT service provider, ByteFum is an established Gujarat-based company that aims to transform its clients' vision into reality. Formed in 2020, the company is widely known for developing world-class websites, mobile applications, e-commerce solutions, and logical business idea development.
ByteFum caters to businesses of all sizes and types enabling them to establish themselves as a trusted and reliable brand in the market.
Team GoodFirms received an opportunity to interview ByteFum's Founder and CEO - Mr. Nishan Vaghani and gain a deep insight into the company's inception, establishment, and plans, along with understanding his ambitions to take the company to desirable heights.
Mr. Vaghani initiated the interview by admitting today's fiercely competitive state of the tech market. He clarified that if the proper support is given to obtain and realize market opportunities, success is not difficult to achieve. Moreover, he has always been optimistic about increasing employment opportunities in the market for potential talents and has been successful so far. He said he started his professional journey being a software developer, and this interestingly led him to convert his dream of having his own IT venture into reality.
Today, ByteFum is recognized as a reliable tech service provider and a global institution for businesses to acquire high-quality solutions for their complex business problems and needs. The company has touched all segments of the web and mobile development industry. It has become an organization that constitutes a team of experienced, talented, and passionate individuals to serve its global clientele.

Business Model and Client-First Approach
As per Mr. Vaghani, the company primarily works on a client-first business model that includes finding a dedicated sale and serving the required solutions. When the client is on-board, the internal project starts. The company also facilitates product-based business models following the same project-serving process and abilities.
When asked about what makes them different from their competitors, he said they are focused on one most important factor that sets them apart from others: providing the right business and technical suggestions to their clients whenever they need them. It helps them grow and enhance better user experience.
The client review shown below perfectly displays what clients think about the company and are valued by company professionals.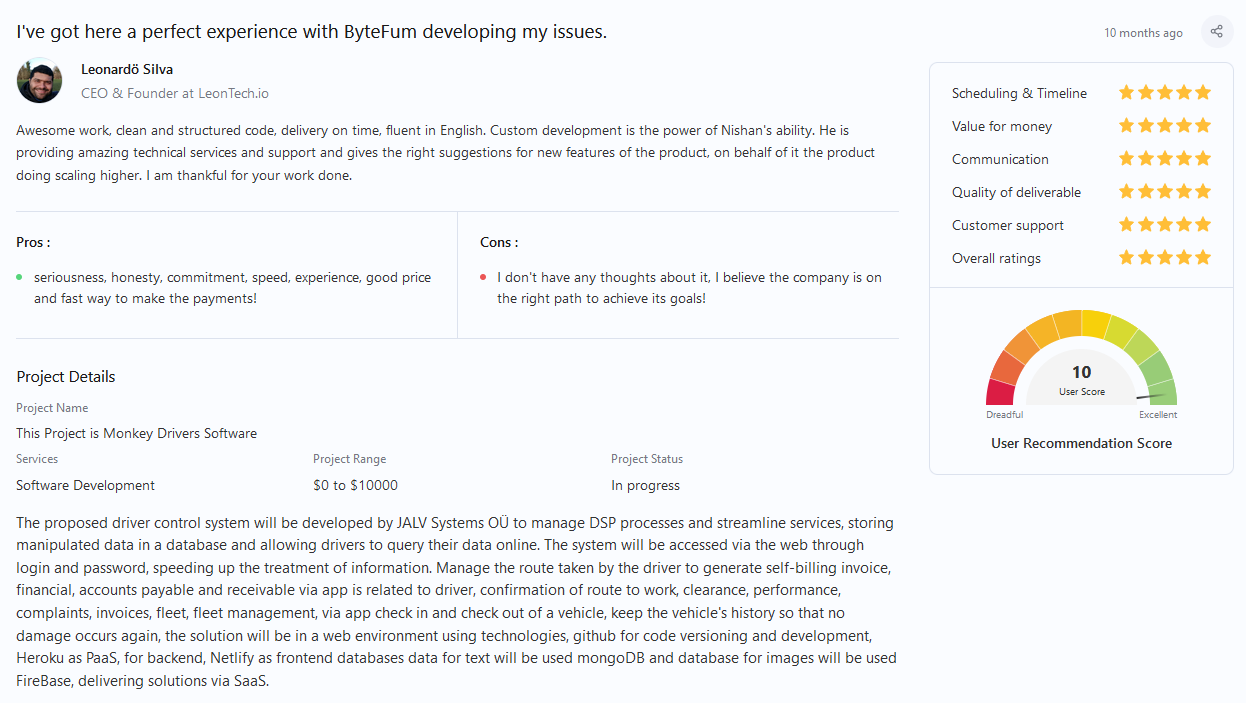 Top Technology Service Provider in India
The company primarily works on the clients' travel, education, e-commerce, and custom needs. A reasonable client retention rate is the reason behind getting good referrals. With 99% satisfied clients and 75% repeat customers, ByteFum has significantly established its name among the top IT businesses globally. It is regarded as the top web development company in India and abroad by GoodFirms and many other third-party companies who are well aware of the potential and abilities it secures to help other businesses grow.
Different tech solutions offered by the company include:
Custom E-commerce solution

Travel solution

Education solution

Digital solution

Mobile Applications

CRM types concept

Custom solutions
Mr. Vaghani clearly defines the direct funnel they have to support and cater to the queries and issues of their clients. They can easily be contacted through a call, mail, chat, or web support facility.
Company's Payment Structure
The budget is, however, set after understanding the project correctly. The company successfully worked on projects priced between $20 and $80 USD per hour in 2022.
When asked where he sees his company in the next ten years, he seems confident and affirms that ByteFum will become the most valuable company in the market for services and support in the next ten years.
Here concludes the excerpt of GoodFirm's interview with Mr. Nishan Vaghani. The detailed interview can be found on ByteFum's company profile page on GoodFirm's website.
About GoodFirms
Washington, D.C.-based GoodFirms is a trendsetting B2B research and reviews firm that aligns its efforts in finding web development and web design service agencies delivering unparalleled services to its clients. GoodFirms' extensive research process ranks the companies, boosts their online reputation, and helps service seekers pick the right technology partner that meets their business needs.
About the Author
Prepared by Anna Stark, a Content Writer at GoodFirms, who bridges the gap between service seekers and service providers. Anna's dominant role lingers to form every company's achievement and critical attributes into words. She strongly believes in the charm of words and equips new approaches that work, always with concepts.